In order to obtain LWG certification, we are pleased to report that we have completed the installation of safety guards on a total of 10 dyeing and dry drums in our company as the second phase of the project. This equipment is necessary to improve the working environment in the factory.
In addition, we have begun the process of conducting surveys and periodically recording the results of six items, including water quality surveys and noise measurements.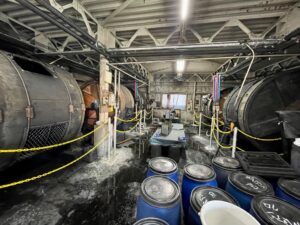 We accept orders for even a single piece of leather.
Please tell us about your "passion".
"Please feel free to contact us if you want to encounter more new leathers, create more interesting leather products, or if you are a corporate product developer or leather goods craftsman.
4-31-7, Sumida, Sumida-ku, Tokyo 1310031, Japan
TEL:
03-3611-6951
 FAX:03-3616-6703
For those who want to see the color and texture of the leather in their handsWe will send you a leather sample book.(Paid)