Our company was introduced in " NIHON KAWAICHI " !!
The website has a very complete introduction of "NIHON KAWAICHI" and its activities, as well as a page introducing various products made of Japanese leather. Please take a look and get to know us.
The " NIHON KAWAICHI " started in 2011 as a project of the Japan Tanners Association. They promote domestically produced natural leather in cooperation with major department stores nationwide. Various contents are prepared at the venue to introduce the appeal of domestically produced natural leather. This project aims to promote the appeal of domestically produced tanned leather and its leather products to consumers nationwide, and to increase awareness of Japanese tanneries.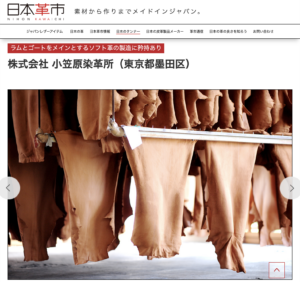 We accept orders for even a single piece of leather.
Please tell us about your "passion".
"Please feel free to contact us if you want to encounter more new leathers, create more interesting leather products, or if you are a corporate product developer or leather goods craftsman.
4-31-7, Sumida, Sumida-ku, Tokyo 1310031, Japan
TEL:
03-3611-6951
 FAX:03-3616-6703
For those who want to see the color and texture of the leather in their handsWe will send you a leather sample book.(Paid)