The 106th Tokyo Leather Fair will be held on December 7 and 8, 2023. We have introduced a QR code for entry, so please register in advance to make your entry smoother. The fair will be held at the Taito Kan, Tokyo Metropolitan Industrial Trade Center, Taito-ku, Tokyo, as in previous years. For more information, please visit https://tlf.jp/next-tlf on the Tokyo Leather Fair website. Exhibitors' information is well organized.
We will be exhibiting in the Japan Soft Leather Business Cooperative Association booth on the 4th floor. We look forward to seeing you there.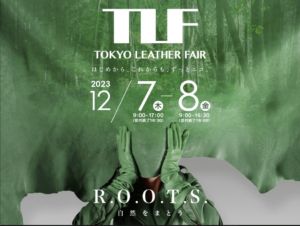 We accept orders for even a single piece of leather.
Please tell us about your "passion".
"Please feel free to contact us if you want to encounter more new leathers, create more interesting leather products, or if you are a corporate product developer or leather goods craftsman.
4-31-7, Sumida, Sumida-ku, Tokyo 1310031, Japan
TEL:
03-3611-6951
 FAX:03-3616-6703
For those who want to see the color and texture of the leather in their handsWe will send you a leather sample book.(Paid)